International Patient Relations Services
Hammoud Hospital University Medical Center (HHUMC) is a leading hospital in the region in providing health care services for everyone in need of it. We provide patients from other countries with diagnosis and specialized care in a timely manner and in a place designed to give the patient the feeling of being at home.
Here, patients can access all medical and surgical subspecialties within one hospital, so the medical team can meet all the patient's health needs and provide comprehensive treatment. Patients are cared for with a wide range of expertise and technology with a level of care that reflects the trust you have placed in us.
Why choose HHUMC?
Because we stand by you when you face an illness.
Our hospital is equipped with the latest technologically advanced equipment, and a highly specialized medical team.
What distinguishes HHUMC?
HHUMC is located in Sidon, a peaceful city in southern Lebanon, 30 kilometers from the capital, Beirut.
With over 325 beds and more than 40 specialties, each and every one of the hospital's 750 employees has been committed to excellence in service for 55 years.
Our specialties include everything the patient needs from examinations to diagnosis to medical surgical interventions that require a highly distinguished team and the latest in medical equipment technology. Our hospital is distinguished by the department of Neurosurgery, which is pursued by patients to provide them with solutions to cases that may be impossible for other doctors. The Department of cardiac interventional and surgical care is also what distinguishes us, as it is the department that doesn't have counterpart in the region. Our hematology and oncology specialties for children and adults allows the patient to undergo the most appropriate treatment for the condition experienced by them, from radiation, to surgical operations. Our surgical operations are not limited to oncology surgery, as HHUMC performs more than 10,000 surgeries every year!
How can you contact us?
Our team is ready to receive your hospitalization requests and arrange accommodations and reception services for you.
Contact us at the following number: 07723111 ext: 1949
or via e-mail: Admissions@hammoudhospital.org
Working hours: from 8 am to 5 pm Beirut time.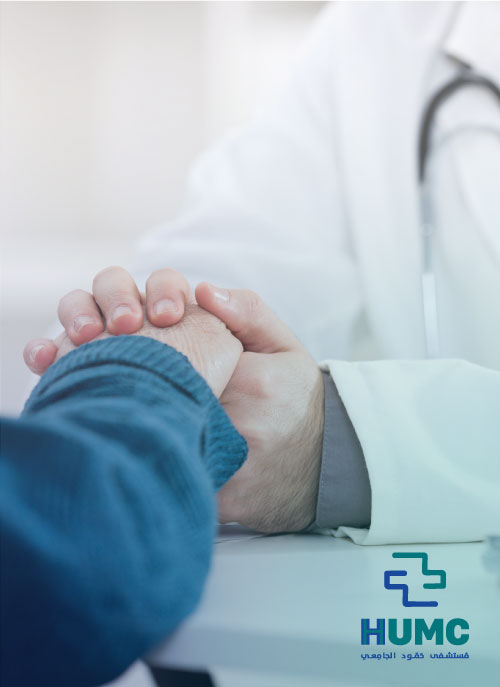 100000
+
Outpatient Visits
13000
+
Emergency Room Visits
International Patients and Families Rights & Responsibilities
Patient's Rights: 
To receive caring, respectful and compassionate care, regardless of age, gender, race, nationality,  religion and financial status, 
To receive care that preserves their dignity as patients and respects their human, cultural, social and religious values. 
Full respect for the confidentiality of their medical records and any other personal information. Patients' information will only be disclosed at their request, at the request of their legal representative/s, with their express written consent, or if such disclosure is authorized by law or by a court order. 
To have someone stay with them to support them during the visiting hours. Patients have the right to refuse visits at any time. 
To be informed of the names of their doctors, nurses, and to refuse or accept the treatment given to them by their doctor/s. They have the right to obtain a second doctor's opinion at any time. 
To accurately and periodically assess their pain to better reduce it.
To Receive an estimate of the costs and detailed information about their stay and physician fees. 
To be informed by their physician of their diagnosis, treatment/surgery, the benefits and risks of the treatment, and the expected outcome, including unfortunate results, complications, and alternative treatments. 
To give written informed consent prior to the start of any elective procedure or operation. 
To be informed about voluntary organ and tissue donation.

To leave the hospital against the advice of their physician, after paying for treatment. 
The patient's wishes must be respected in any medical procedure. They have the right to accept or refuse treatment, including resuscitation, in whole or in part (the attending physician will inform the patient of the possibilities of refusing or accepting treatment without contravening the laws and regulations in force). 
If the patient is unable to express their wishes, they have the right to rely on a family member, or on a trusted person designated by the patient in a written and signed document, when deciding on the proposed treatment. 
If the patient is a minor or incompetent, the patient's legal representative will decide on the proposed treatment. 
To agree or refuse to participate in medical research studies. Patients ahev the right to withdraw from a study at any time without impacting their access to standard care. 
To take a copy of the discharge summary and a detailed medical report on their condition from the treating physician. They have the right to obtain a copy of laboratory and radiology results from the relevant departments. 
To receive instructions on their health status from the attending physician and nursing staff prior to discharge, in order to follow up on their health care routine at home.
Patients have the right to voice their concerns about HHUMC's care. 
If they have a problem or complaint, they may contact the Patient Relations Management Department at this number. 96176940034. Any complaint will be followed up closely, ensuring that this complaint will not affect the quality of care and services provided. 
Patient Responsibilities: 
To cooperate with HHUMC's employees and provide them with complete and accurate information, and inform theirphysicians and nurses of any emergency or change in their health status. 
To provide caregivers with information about their health, medical history, surgeries performed, medications, allergies to medications or food, etc. 
To abide by HHUMC's rules regarding refraining from smoking and being mindful of cleanliness and noise levels at all times.
Patients are responsible for maintaining the cleanliness and integrity of all HHUMC's property made available to themduring their stay. 
Patients are asked to leave their personal valuables with their loved ones during their stay. If they wish to keep theirpersonal valuables with them during their stay at HHUMC, they will assume full responsibility for them. HHUMC will not be held responsible for the loss or damage of any item. However, in special cases, patients may declare valuable belongings to their nursing staff during their stay and fill out a form for this matter: "Declaration or receipt and delivery of patients' personal effects". 
Patients are encouraged to comply with thier prescribed diet and refrain from bringing in foods unless coordinated with their caregivers. 
Providing complete and accurate information about their health insurance coverage and paying their bills in a timely manner, is highly appreciated.
Treating HHUMC's staff, other patients and visitors with courtesy and respect is highly appreciated.
Patients are asked to abide by the COVID-19 prevention and safety measures. Wearing masks, washing and disinfecting hands at all times, and social distancing is highly encouraged.